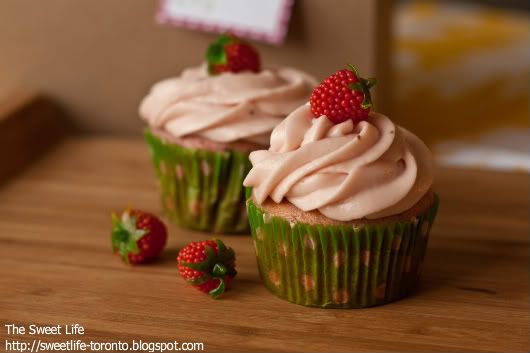 Cupcakes are great editions for any celebrations & ocassions. Cupcakes recapture everyone's happy childhood memories or creating new ones for the kiddies.
The Sweet Life cupcakes can be adorned in high style to coordinate your special events. Just let us know, we will design one of a kind cupcakes to suit any them & idea you have in mind.
Cupcakes can be topped with classic sprinkles, sugar cookes, chocolate design, Marizpan or Fondant figures.
All Sweet Life cupcakes are made with finest natural ingridents. Each cupcakes are handmade with care & love. Please do not hesitate to
contact us
for a quote!
Cupcakes range range from $32.00/dozen for Classic Flavors, 36.00/dozen for Premium/Seasonal Flavors. Sugar cookies/chocolate toppers are additional $6.00-$8.00/doz. Marzipan or Fondant toppings are additional $7.50-$10.00 per dozen.
**(Prices vary base on complexity of design & quantity)
Here is a list of our popular flavors:
THE CLASSIC
Vanilla or chocolate cake with vanilla beans buttercream
CHOCO-CHOCOLATE
chocolate cake with chocolate buttercream
CHOCO-METCHA
Greentea cakes with chocolate buttercream
MINTY FRESH
chocolate cake with mint buttercream
CHUNKY MONKEY*
Banana Chocolate chip cake with Chocolate buttercream
STRAW-STRAWBERRY**
Strawberry Ruhuarb Cake with Strawberry Rhubarb buttercream
MANGO MADNESS**
Mango cake with mango buttercream
COOKIE & CREAM
Chocolate cake with cookies n' cream buttercream
LEMON ZINGER
extra Moist Lemon cupcakes with Vanilla buttercream
ROOTBEER FLOAT*
Rootbeer cake with Vanilla buttercream
SUGAR N' SPICE*
Spice Zucchini & chocolate chip cake with Cream cheese forsting
*premium/**seasonal flavors
If you require specialized cupcake stand for your event, special cupcakes stand rentals are available.
See the Sweet Life
Cupcakes Gallery